Blog
December 2018
THE FAR SIDE OF PANIC
This blog is really for all those of you who have those moments of despair: where is my work going.. what am I doing… can't think, can't write… why am I doing this……
Earlier this year I was sitting in on a workshop run by Andrew Miller and Karen Altenberg. Andrew opened it by talking about the 'process' of writing. I found myself prickling.. what an odd, unsympathetic word to describe the creative work of writing. And then he explained, and I tell you, the sense of relief that writers as brilliant as he, experienced the same struggles as those of us on the margins, was a wonderful encouragement. A liberation! In note form, this is what he said.
The 'process' of writing
The important thing is not to lose faith in the process. If you feel you are floundering, the process will take follow you through, even if it takes years (which incidentally, writing a book usually does).
At the beginning of your work you can think of nothing that gives order to it.
"Any ambitious piece of work involves a powerful sense of being lost, not knowing how to continue, or how to explain it. Being blocked is part o the process, being lost, not knowing – it's all within the process. These are not indicators that you have lost your way.
There is always a far side to not knowing. Panicking is part of the process!
Indulge in "diligent indolence" – we need time when we are not overly engaged. Sometimes our writing seems to be working, but it's often the rest, mulling away just below the surface, that is the most important.
Writing can be a messy process, partly because we can't see what's going on, that's because a lot of what goes on is outside of our ability to consciously know it. "When we write" says Andrew Miller, "we enter mystery".
The time it takes, not always easy to justify, but most work is done slowly, much like a gardener. You don't plant a seed and expect it to be a full grown plant the next day. It takes 2 to 3 yrs minimum to write a book. It can be hard to justify that much time. Keep your nerve. Things get written through life, not round the side of it.
The difficulty is having faith in the process. When you loose faith in it you feel you'r floundering. The key is to keep faith with it. You will eventually see how it will carry you through.
Later I asked Andrew if he had days when he sat down and realised he had nothing whatsoever to say.
"Often."
"So what do you do?"
"After 10 minutes or so I give up and go and hoover the floor."
July 2018
HOW THE STORY OF OTHER PEOPLE'S LIVES CAN CHALLENGE AND INSPIRE OUR OWN
I don't think anyone, reading the news today, could fail to be dismayed by the extent that racial disharmony is fragmenting communities across the world.  The escalating violence, the naked hatred we witness on an almost daily basis, has left us reeling.
Does that mean that somehow, we all have to re-think our own values? And if so how? How do we re-evaluate those deeply felt beliefs that define who we are? And how do whole communities, especially those entrenched in class or racist values, ever change?  Is it possible?
Well yes, it is. A few years ago I met, and wrote about, an extraordinary white South African who not only radically altered his fundamental political and spiritual beliefs, but influenced a community to do the same.
British Concentration Camps

Nico Smith was an Afrikaner and a passionate believer in Apartheid and Afrikaner domination. His grandmother had been incarcerated in one of the British Concentration camps during the Boer War – camps in which 26,000 Afrikaner women and children and 13,000 black Africans died – and from childhood he had been taught that the British were the enemy and that blacks were both inferior, and dirty. So deeply ingrained in the Afrikaner psyche was this sense of blacks being unclean, that as an adult he, like so many other Afrikaners, was physically unable to sit down at the same table as a black person, and eat. His views were endorsed by the Dutch Reformed Church which taught that racial separation was a divine law, willed by God.
Nico joined the Broederbond, the secret brotherhood of Afrikaners who infiltrated all the top political positions in the country and who were set on controlling South African political, spiritual and social life. They were frighteningly successful. It was the Broederbond who formulated apartheid, basing many of their laws on those of Nazi Germany. By 1978 every member of the Cabinet, bar two, were part of the brotherhood, as were a succession of Prime Ministers.
Nico became a Professor of Theology at the prestigious Stellenbosch University, with a growing public profile. He was also a pastor in the Dutch Reformed Church and followed the party line, that apartheid was willed by God.
Everything I believed in was wrong
But then, for Nico, it all fell apart. He began to grow uneasy. A series of challenging situations and meetings led him to realise that he was completely wrong. That everything he had been taught to believe about himself, his theology, his role in society, was utterly, and appallingly, wrong.
After a near death experience, and an encounter with the theologian philosopher Karl Barth, Nico painfully, slowly and with extraordinary courage, completely changed course. With his wife Ellen he moved into the black township of Mamelodi – the only whites in the community. An extraordinary move that cost him his job, his friends, many of his family, and his position in society. And on many occasions, it nearly cost him his life. This was a period of escalating racial violence with daily murders and necklacing, a dangerous time for anyone living in the townships, but most especially a white man.
A simple shared meal that changed hearts and minds
Undeterred, he started a revolutionary movement – Koinonia – which had the simple aim of encouraging white and black South Africans to eat together, to share a meal, in the course of which, they shared their stories. It was a forerunner of the Commission for Truth and Reconciliation. The movement grew, as did Nico's international reputation. And there is no doubt that he was hugely influential in helping to bring about the changes that ended the apartheid era.
I was privileged to write his biography. A while ago I was asked by a South African minister to re-issue the book as members of the Dutch Reformed Church were now struggling to come to terms with their past, and for many, their anger for being taught to believe in a system they now see as repugnant.
OUTSIDE THE GATE- A White man's fight for black justice in South Africa is now on sale as a paperback and on kindle. If you're interested, be sure to get the new edition, with a preface by Douglas Bax and this endorsement, from Professor Piet Naude:
As South Africans struggle at the current moment to live beyond our trenches of race, gender and especially class, this book is a must read to inspire us to move beyond the enclaves that hold us captive. I warmly recommend a re-edition of this book.
Maybe it is not just members of the DRC who would gain inspiration from Nico's inspirational journey of self awareness. As we view what is happening in the United States, and in our own country, at the present time, I believe his story could inspire others to re-think, and to explore the possibility of new, and more creative relationships, with those who had previously seemed so alien and unknowable.
February 2018
PERSONALISED MENTORING FOR MEMOIR WRITERS


There are all sorts of creative writing workshops on line, but mine is a little different. For one thing, I want to make it personal to you, so that I work on those areas of writing that  interest you most, or which you find most problematical. So I don't ask you to join in video links with other students, or watch pre-recorded lessons.  I work with you, step at a time. There is no fixed schedule, so you can do the course at your own pace, and you will also have the opportunity to have the first 5,000 words of your finished memoir critiqued at a later date.  You can find more details about the course here, but do feel free to email me if you just want to chat it through.
January 2018
CALLING ALL ASPIRING MEMOIR WRITERS: THIS IS A WORKSHOP NOT TO BE MISSED
I'm delighted to be heading up another exciting workshop on Memoir Writing this May run by The Oldie Magazine. This year we have two particularly exciting workshop leaders, Lawrence Norfolk and Dea Birkett who will be putting you through your paces.
Lawrence Norfolk, whose latest novel,
John Saturnall's Feast

, was described by the Guardian as 'dazzling', will be running a workshop on the art of descriptive writing.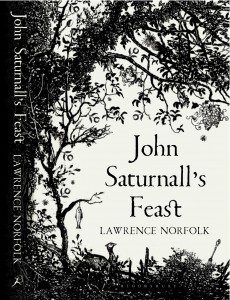 Described by Louis de Bernière as 'a genius',  his novels are now translated into 28 languages.  He's not one of those writers who churns out a book a year.  Each novel takes years of research, and if he is to be believed, blood, sweat and tears!  They are extraordinary works of art, fascinating both in their originality and imagination, but also in the beautiful way they are crafted. Lawrence is a delightful speaker, with a passion for his art and for passing on the things he has learnt over the years. His workshop will be a real treat.
We also have the award winning writer, journalist and broadcaster Dea Birkett on the team, who will be running a workshop on dialogue – something it's so easy to get wrong.  Dea first rose to fame as a travel writer, but a travel writer with a difference. 
Jella

the account of her experiences as the only female crew member on the last cargo vessel to sail from from Lagos to Liverpool, won the Somerset Maugham Award. Described by Elspeth Huxley as 'compulsive reading', it was a journey of self discovery as she swapped her skirt for a boiler suit, and earned not only her Steersman Certificate, but finally the respect and affection of the crew.

But for me, Jella was eclipsed by her next, even more extraordinary book, 
Serpent in Paradis

e. This was the account of her four month stay on the remote volcanic island of Pitcairn, where she lived among the 38 descendants of the Bounty mutineers.  If you want to learn how to write about yourself in any given situation, to see yourself as a character on the page, to view yourself objectively – which is partly what memoir writing is about – then these are the books to read.
I will also be running two workshops, one on ways to kick start the memory using the five senses, and one on the art of writing about yourself as a character on the page.
So this is a day not to be missed.  I'll post the full programme, with links, next month.  But for now, put the date in your diary:
Wednesday May 3rd.  Venue, The East India Club, St James' Square London.  9.00 am – 4.30 pm. Details coming later.
March 2017
HISTORICAL WRITING CAN BE EMOTIONALLY TOUGH
Those of you interested in historical writing would have been fascinated by an evening arranged by the Society of Authors recently.
Lady Antonia Fraser and Antony Beevor – two of the most respected historians of our time – were talking about how they approached their work and what emotional impact writing, often traumatic events, had on them as individuals.
I had never thought before about the personal cost of being a historical writer.  Take Antony Beevor. He writes modern history, much of it concerned with the Second World War, so, unlike Antonia Fraser, who specialises in the Tudors, he is able to interview people connected with the events he's researching.  And not just the goodies.  The baddies as well.  He spoke about meeting a German who'd worked alongside the Fuehrer.  "I found I was shaking a hand that had shaken the hand of Hitler". A challenging thought.
Some of his interviews – with war criminals, with survivors – have left him sleepless. Some of the things he has uncovered chill the blood. At the time, he said, you just concentrate on getting the material down, the emotional impact of what you have heard doesn't hit you 'til much later, usually in the middle of the night.  After visiting some of the death camps it was years before he could sit in front of a plate of food and not think that in those circumstances it would have fed 10 people.
For Antonia Fraser the emotional connection was different, but still intense.  Her subjects are long dead, but when you research a life in detail – a life for which you already have a fascination, and often an empathy – when you visit archives and read and touch the letters they wrote, look at the clothes they wore, or walk where they walked; when you immerse yourself in every detail of their lives, the horrors and fascinations of their times, these historical figures become intensely personal to you.
I can relate to that. I remember when I was studying for my PhD, the Swedish monk I was writing about, though he lived in the 13th century, was almost as real to me as my living friends. (Perhaps this says something infinitely sad about historians!).  History isn't about scientific fact, it's about emotional events.  And it's in our DNA. We feel connected. And clearly, when Antonia spoke about Mary Queen of Scots, the manner of her execution still moved her, so real was this Tudor queen to this 21st century Lady.
What both writers made clear from the outset was the difference between writing history – which is what they do – and writing historical fiction.  Historical fiction, or faction, definitely has its place, but if you want to know the difference between the two, look out for adjectives.  Historians would never write "King James smiled at the Lady X as she sauntered past" unless there was reliable, written historical evidence that Lady X did in fact "saunter" past at that particular moment in the days events, and that James had actually smiled.  Unlikely!
Anthony Beevor felt the problem for future historians lay in the fact that reliable written evidence is now on the decline.  How will they find the truth about events in the 21st century and beyond when we rarely write letters or commit thoughts to paper? We email, or text, or use social media. The everyday realities of ordinary people will be lost in the ether. Even politicians are now using their own private emails to communicate so that conversations can be, and are, erased. What written material there is, like published diaries and memoirs – are by their nature slanted versions of real events, coloured by a personal bias, an in any case, reflect the lives of only a privileged few.
But while he feared lack of reliable documentary proof would make it extremely hard for future generations of historians, Antonia Fraser was more sanguine.  Historians, she felt, would always find a way.
This was a fascinating evening with two charming, self-effacing authors whose passion for their work, and utter integrity as writers, was inspirational.
November 2016
FOR WRITERS, WORK DOESN'T STOP WITH THE FINAL DRAFT!

There you are in your garret, writing your heart out, month by month, sometimes year by year, and when your baby finally is born, and the publishers take over, you could be forgiven for thinking you'd done your bit. Not so. After publication the amount of marketing you, as the author, still have to do is staggering. There are articles to write, TV, radio, and newspaper interviews, talks, .. blogs! Of course it's heady stuff, but not always comfortable.
Over the last few weeks I've had some good experiences and some bad ones. Radio highlights were definitely the Jeremy Vine show for the BBC and the Andrew Morton Show in Canada. Very different journalists, but both brilliant, empathetic interviewers who gave you space to speak and made you feel comfortable and relaxed. Unlike the ghastly experience I had with Premier Christian Radio!
You also have no control over head-line writers – especially for the newspapers online – and some of these have been pretty scurrilous!
But the really rewarding aspect of all of this has been the number of strangers who have written saying how much ONE YELLOW DOOR has comforted and encouraged them. Writing about your own life is not comfortable, but their emails and letters have made the whole venture worth while.
October 2016
THE TOP OF AMAZON'S BEST SELLER LIST

The publication of my own memoir, ONE YELLOW DOOR, has taken all of us by surprise, reaching No 1 in the Amazon best seller list in three categories.  I'm still not quite sure why!  But with articles in The Guardian and The Telegraph, and appearances on the Lorraine Kelly show and several radio shows, here and abroad, with the Jeremy Vine show scheduled for early next month, it's all been a bit of a roller-coaster.  More articles either by me, or about the book, will be out in the New Year.
The problem now is that I have to get cracking on another book before all the broohaha subsides and I am left with just the allotment to dig.
Thank goodness for the Oldie Writing Courses, which provide us all with considerable fun.  If you haven't been on one yet, try to.  The punters are an amazing assortment of funny, clever and attractive people.  I hope to encourage them – and you – to look at our new Personalised Memoir Writing Courses online. They're fun, and will put you in touch with a personal tutor who will give you detailed and careful feedback on your work.  There's nothing like the encouragement of another writer to help you through those blank patches, which we all get from time to time.
Rebecca de Saintonge

Meta