BLOG
January 2018
CALLING ALL ASPIRING MEMOIR WRITERS: THIS IS A WORKSHOP NOT TO BE MISSED
I'm delighted to be heading up another exciting workshop on Memoir Writing this May run by The Oldie Magazine. This year we have two particularly exciting workshop leaders, Lawrence Norfolk and Dea Birkett who will be putting you through your paces.
Lawrence Norfolk, whose latest novel,
John Saturnall's Feast

, was described by the Guardian as 'dazzling', will be running a workshop on the art of descriptive writing.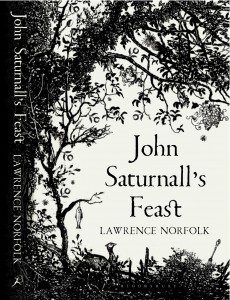 Described by Louis de Bernière as 'a genius',  his novels are now translated into 28 languages.  He's not one of those writers who churns out a book a year.  Each novel takes years of research, and if he is to be believed, blood, sweat and tears!  They are extraordinary works of art, fascinating both in their originality and imagination, but also in the beautiful way they are crafted. Lawrence is a delightful speaker, with a passion for his art and for passing on the things he has learnt over the years. His workshop will be a real treat.
We also have the award winning writer, journalist and broadcaster Dea Birkett on the team, who will be running a workshop on dialogue – something it's so easy to get wrong.  Dea first rose to fame as a travel writer, but a travel writer with a difference. 
Jella

the account of her experiences as the only female crew member on the last cargo vessel to sail from from Lagos to Liverpool, won the Somerset Maugham Award. Described by Elspeth Huxley as 'compulsive reading', it was a journey of self discovery as she swapped her skirt for a boiler suit, and earned not only her Steersman Certificate, but finally the respect and affection of the crew.

But for me, Jella was eclipsed by her next, even more extraordinary book, 
Serpent in Paradis

e. This was the account of her four month stay on the remote volcanic island of Pitcairn, where she lived among the 38 descendants of the Bounty mutineers.  If you want to learn how to write about yourself in any given situation, to see yourself as a character on the page, to view yourself objectively – which is partly what memoir writing is about – then these are the books to read.
I will also be running two workshops, one on ways to kick start the memory using the five senses, and one on the art of writing about yourself as a character on the page.
So this is a day not to be missed.  I'll post the full programme, with links, next month.  But for now, put the date in your diary:
Wednesday May 3rd.  Venue, The East India Club, St James' Square London.  9.00 am – 4.30 pm. Details coming later.
Rebecca de Saintonge

Meta